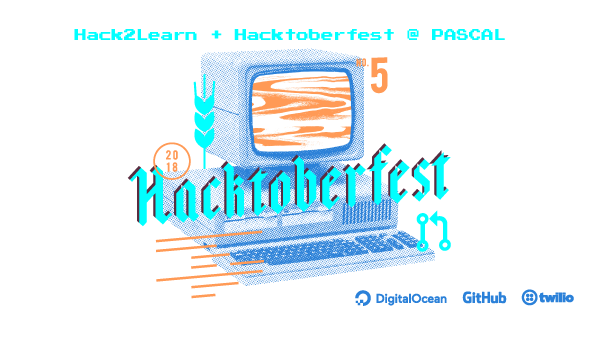 What is Hacktoberfest?
Hacktoberfest is a month-long celebration of open source software run by DigitalOcean in partnership with GitHub and Twilio.
Hacktoberfest is open to everyone in our global community!

Five quality pull requests must be submitted to public GitHub repositories.

You can sign up any time between October 1 and October 31.

Pull Requests from before you officially register still count.

The first 50,000 completions of 5 pull requests will be awarded a free (shipping included) t-shirt at the end of October.
Check the official FAQ for Hacktoberfest here: https://hacktoberfest.digitalocean.com/faq
PASCAL's site repository lives here: https://github.com/pascalpdx/ It is open. Feel free to participate in Hacktoberfest at PASCAL by submitting a pull request (PR) to our site housed on Github.
We will have a project for Hacktoberfest in the project's tab: https://www.pascalpdx.org/project/ Submit whatever you'd like and let it be immortalized on our site here for years!
See also: We will be covering Hacktoberfest on October 20th, 2018 in conjunction with our regularly scheduled Hack2Learn Meetup. Please RSVP on the Meetup page.
Related